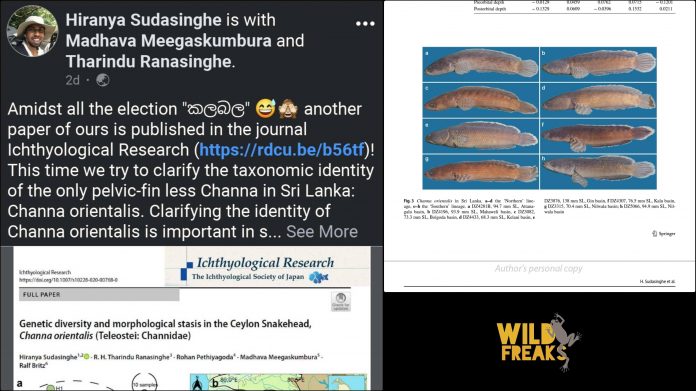 Recently a group of researchers from Sri Lanka revealed a new species in genus rasbora (read more). Today a research paper by the same group has published in the journal Ichthyological Research. This time they have explained the taxonomic identity of the only pelvic-fin less Channa in Sri Lanka: Channa Orientalis.
In this study they have revelled Channa Orientalis in Sri Lanka is composed of two geographically and phylogenetically discrete lineages but which show remarkable morphological stasis. Also, the type locality of Channa orientalis as southwestern Sri Lanka, supported by some evidence. The also claimed The word "Channa", the generic name of snakeheads may have originated from the Sinhala local name for this group of fishes: "kanaya"
As the type species of the genus Channa, the identification of the pelvic-finless snakehead Channa orientalis Bloch is important to channid systematics. Although this name has been added to a Sri Lankan species for the past 160 years.Channa orientalis is distinguished from other species of Channa by the absence of pelvic fins, adult colouration in life, dorsal- and anal-fin ray counts, number of vertebrae, and scale counts."
The research was conducted by Hiranya Sudasinghe, Rohan Pethiyagoda, Ranasinghe Hettiarachchige Tharindu Ranasinghe, Madhava Meegaskumbura, and Ralf Britz. The research article was published in the journal Ichthyological Research(https://bit.ly/3kuCF80). "Bravo!", This is the 2nd article by Mr. Hiranya Sudasinghe that got published this week. We wish you good luck with your works. #TeamWildFreaks
Click here to visit the article.