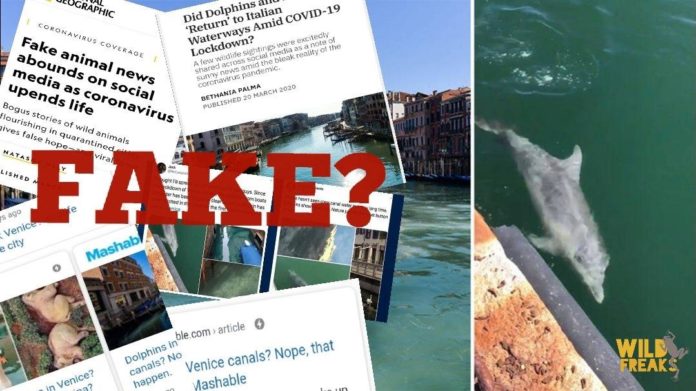 Did Really Dolphins and Swans 'Return' to Italian Waterways due to COVID-19 Lockdown?
on Twitter this week, some happy stories softened the blows: Swans had returned to deserted Venetian canals. Dolphins too.
These reports of wildlife achievements in countries hard-hit by the novel coronavirus got hundreds of thousands of retweets. They went viral on Instagram and Tik Tok. They made news headlines. people said, this was it—animals were bouncing back, operating free in a humanless world.
Kaveri Ganapathy Ahuja's controversial tweet about the swans that "returned" to Venice canals has hit a million likes.
Here's an unexpected side effect of the pandemic – the water's flowing through the canals of Venice is clear for the first time in forever. The fish are visible, the swans returned. pic.twitter.com/2egMGhJs7f

— Kaveri 🇮🇳 (@ikaveri) March 16, 2020
Ahuja, who lives in New Delhi, India, says she saw some photos on social media and decided to put them together in a tweet, unaware that the swans were already regulars in Burano before the coronavirus tore across Italy.
"The tweet was just about sharing something that brought me joy in these gloomy times," she says. She never expected it to go viral, or to cause any harm. "I wish there was an edit option on Twitter just for moments like this," Ahuja says.
She's tweeted about the "unprecedented" number of likes and retweets she's received on the tweet. "It's a personal record for me, and I would not like to delete it," she says.
Venice hasn't seen clear canal water in a very long time. Dolphins showing up too. Nature just hit the reset button on us pic.twitter.com/RzqOq8ftCj

— Gianluca De Santis (@b8taFPS) March 17, 2020
As experts interviewed by ABC News pointed out, the water was clearer, though not necessarily cleaner, due to a lockdown-related reduction in boat traffic, which typically "kicks sediment to the surface" and makes it murkier.
Levels of nitrogen dioxide pollution fell drastically in parts of Italy — a direct result of the country closing due to #COVID19 . Venetians say the water hasn't been this clear in 60 years. Air quality and pollution continues to clear. Some refreshing positive news for your TL🌎 pic.twitter.com/PxOAFV8ajd

— 바 네 사 🌙 (@finessabae) March 17, 2020
Did Really Dolphins and Swans 'Return' to Italian Waterways due to COVID-19 Lockdown?
What's True
Dolphins and swans were indeed spotted in some of Italy's waterways after the nationwide lockdown was imposed.