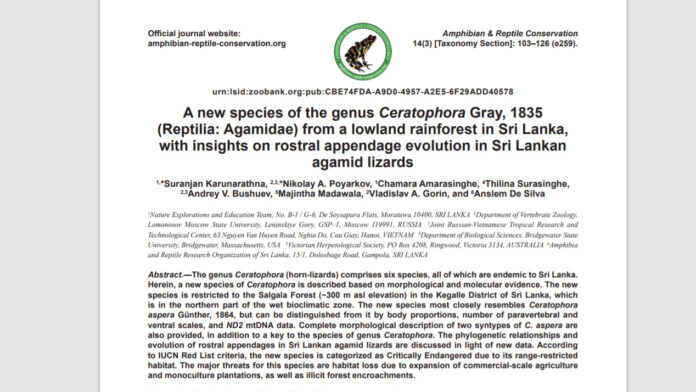 Ceratophora ukuwelai – Ukuwela's Rough Rorned Lizard
The 6th species of Genus Ceratophora was discovered by Mr Sameera Suranjan and the team. Ceratophora is an endemic genus to Sri Lanka. They are called Horned-Lizards. It had 5 different species.
Ceratophora aspera
Ceratophora erdelenni
All of them are restricted to the wet zone of Sri Lanka and C. aspera shows the widest distribution among them. The last species (C. erdelenni/ C. karu) were described by Mr Kelum Manamendra-Arachchi and Mr Rohan Pethiyagoda in 1998. With the newly described species, Ceratophora ukuwelai the number of species of genus Ceratophora is increased to 6. The research team compared the museum specimen of C. aspera and specimens from Low-land wet zone they realized that there was a difference between those specimens. After some morphological and genetic researches, they described a new species from Salgala Forest, Kegalle. The new species is named in honour of Dr Kanishka Ukuwela, Evolutionary Biologist and Herpetologist, Senior lecturer of the University of Rajarata for the incomparable contribution he had done for conservation and studies of Sri Lankan biodiversity. It is called Ukuwela's Rough Horned Lizard (Ceratophora ukuwelai). There is a 9.6% of (ND2) mitochondrial DNA distance between two species. Researchers said that most probably these two species were separated before about 7.8 million years. There are few morphological differences between C. aspera and C. ukuwelai. C. ukuwelai has a higher number of supraciliary scales, ventral scales, and paravertebral scales. This species is listed as a Critically Endangered species.
"Bravo!", This is the first horned lizard described after 22 years in Sri Lanka. We wish Mr Sameera Suranjan Karunarathna team and good luck with your works. #TeamWildFreaks
Reference:
Karunarathna, D.M.S. Suranjan. "A new species of the Genus Ceratophora Gray, 1835 (Reptilia: Agamidae) from a lowland on rostral appendage evolution in Sri Lankan Agamid lizards." Amphibian and Reptile Conservation, October. 2020, . Accessed October. 2020.