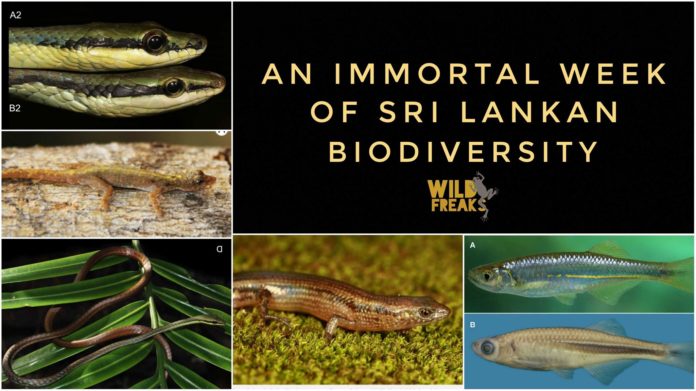 This past week has been a very important week for Sri Lanka's biodiversity. This is because some local ecologists have uncovered several species of animals we did not know about before. These findings were inspired by some emerging young environmentalists.
Wickramasinghe's Bronzeback (Dendrelaphis wickrorum) | වික්
‍

රමසිංහලාගේ හාල්දණ්ඩා

Bronzeback is a special snake that can be seen in Sri Lanka. So far we've thought that the Bronzeback is known as the "Dendrelaphis bifrenalis" which can be seen in both wet and dry areas.

But this new discovery shows that these snakes in the wet zone are morphologically and genetically different from their brothers in the dry and intermediate zones. As a result, wetlands in the wet zone have been identified as a separate species. The creature has been named in honor of Mendis Wickremasinghe and Nethu Wickremasinghe, a senior ecologist who plays a major role in the reptile and amphibian biology of Sri Lanka. Mr. Mendis Wickremasinghe was instrumental in popularizing snake conservation among the general public. Dieth Danushka, Suneth Kanishka, Tasun Amarasinghe, Garnot Vogel, and Sampath Seneviratne have contributed to this discovery. They have been exploring forests since 2012 to find this.

Visit for the article: Click here
.
Sameera's Lanka Skink (Lankascincus sameerai) | සමීරගේ ලක්-සිකනලා
The genus Lankascincus is referred to as the lak hikanalun in sinhala. This is because they are only found in the country. Researchers have found a morphologically distinct population of the genus Lankascincus gansi. This new species of Skinks are found in the Rakwana Mountains in Sabaragamuwa Province, which is more than 1000 meters above sea level. They live in forests lurking among the green leaves. The discovery was made by environmentalists Dinesh Danushka, Suneth Kanishka, and Tasun Amarasinghe. Dr. Kanishka Ukuwela of Rajarata University also supported the genetic study of these animals. The species is named in honor of Sameera Suranjan, an expert on the reptile of Sri Lanka. Last year, he was best known for the discovery of six day-hunters in the central highlands.
Visit for the article: Click here
.
Aranayaka Devario (Devario memorials) | අරනායක සාලයා
This week's other important article is compiled by Environmentalist Hiranya Sudasinghe and his lecturer Madhava Meegaskumbura. Their concern is the study of evolutionary history in Sri Lanka of Devario fish, a group of freshwater fish in Sri Lanka. Accordingly, this study enables us to better understand the evolution of Devario and their genetic ancestry from the Pleo-Pleistocene period in Sri Lanka. Researchers have also discovered a new species of Dankola Devario in the Aranayaka region of the Ma-Oya basin. This new species is named Devario memorialis. It is as a commemoration of our own brothers and sisters who unfortunately lost their lives due to a landslide in Aranayaka in May 2016.
Visit for the article: Click here
Mano's Day-gecko (Cnemaspis manoae sp.) | මනෝගේ දිවාසැරි හූනා
Investigations on the Cnemaspis, a species of geckos in Sri Lanka, have identified a new species in the low country wet zone. This new species is found in the thick scrub jungle areas of the Gampaha and Colombo districts and adjoining the human settlements. Two environmentalists Tasun Amarasinghe and Sameera Suranjan have contributed to the discovery. The creature is named in honor of Mrs. Mano Kalupahana, a biology teacher at Royal College, Colombo. For guidance, she gave thousands of students studying biology and ecology.
Visit for the article: Click here
.
Merrill"s Lanka-skink (Lankascincus merrill sp.)| මෙරිල්ගේ ලක්-සිකනලා
Researchers have discovered a new species of Lak-sikanala, one of the endemic skinks we mentioned earlier. This new species is found in the Rakwana Mountains. This new species is found in the lowland wetlands, from the central hills to the rainforests. The environmentalists Mendis and Nethu Wickremasinghe and Dulan Ranga Vidanapathirana have contributed to the discovery. Merrill J. Coleman, founder of the Dilmah Conservation Foundation and the Dilmah Environmental Protection Foundation. According to Mr. Fernando's name. It is to commend him for his work in protecting the environment of the country and its importance to the public.
Visit for the article: Click here
Check This Out – Introduction to Genus 𝘈𝘤𝘢𝘷𝘶𝘴