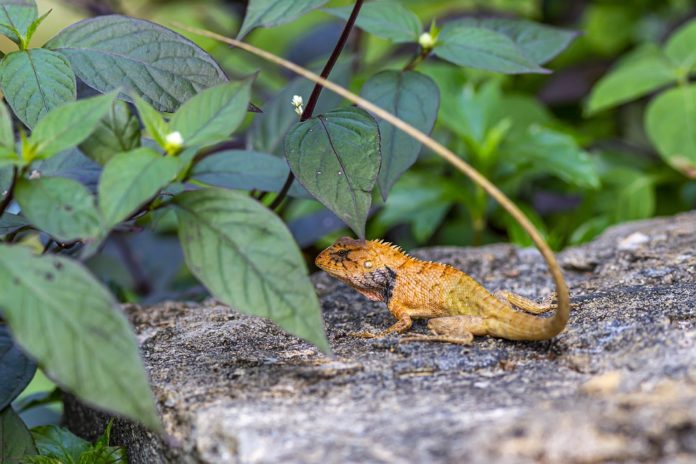 DESCRIPTION: Head large Scales on body point backward and upwards. No fold or pit front of shoulders Two separate sets of spines above tympanum. Coloration variable and also changeable, with head becoming bright red and black patch on the throat in displaying males, fading to dull grey at other times; females may become yellow, changing to dull greyish-olive after mating.
DISTRIBUTION: The most abundant and widespread agamid in Sri Lanka, restricted to elevations from sea level to 1,000m above.
HABITAT AND HABITS: Mostly seen in anthropogenic habitats, though some occasionally seen in pristine habitats as well. Diurnal and arboreal. Feeds on insects and other invertebrates. While sunbathing, the lizards try to orient their body surfaces towards sunlight and keep the body color dark to increase heat absorption. Head bobbing and dewlap expansions are common when another individual is encountered. Oviparous, laying about 12 eggs in a pit.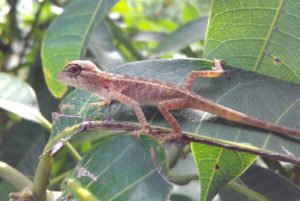 Calotes versicolor
References
Calotes versicolor Further reading
Asana, J. 1931 The natural history of Calotes versicolor, the common blood sucker. J. Bombay Nat. Hist. Soc. 34: 1041–1047.
Devasahayam, S., and Anita Devasahayam. 1989. A peculiar food habit of the garden lizard Calotes versicolor(Daudin). J. Bombay Nat. Hist. Soc. 86:253.
Wildlife at Sungei Buloh Wetlands Reserve, by Ria Tan
Tiwaru, Manjula;Schiavina, Aurofilio 1990 Biology of the Indian garden lizard Part I: Morphometrics Hamadryad 15: 30-33
Waltner, R.C. 1975 Geographical and altitudinal distribution of amphibians and reptiles in the Himalayas Cheetal (Dehra Dun, India) 16(1): 17-25; 16(2): 28-36; 16(3): 14-19; 16(4): 12-17.
Check out – INTRODUCTION FOR DRAGON LIZARDS